To save custom plant models 🌳🌼 created with Edit "Save As" in Version 2 - you MUST save a copy of your PreFab_User.dat file on your Desktop BEFORE updating to Version 3.
STEP 1: Create a Copy
It's easy to save a copy of this file:
Right-click on the Windows icon and type This PC and press Enter
Double-click on your C Drive (or the drive the software is installed on):

Double-click the Structure Studios Folder to open it.
Double-click the SE3D20 Folder
Double-click the Data Folder
Double-click the User Folder

Once you are in the User Folder, right-click PREFAB_USER.dat and Press Copy:

STEP 2: Save On Your Desktop
Head back to your Desktop
Right-click and press Paste: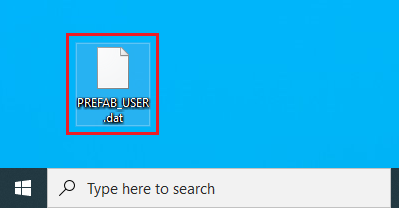 STEP 3: Add to Version 3
Once you are on Version 2021.1.1 place the PREFAB_USER.dat file on your desktop back into your C:\StructureStudios\SE3D20\data\user folder.
All the 🌵🌳🌲🌼 models you saved in Version 2 will be ready in Version 3!