You can save your custom library templates to the library for future use
Templates can include objects that may have been created in different stages. For example: water features with landscaping items or many other groups of items may be saved together as a template.
The buttons located at the bottom of the Library allow you to save, edit and delete customizations you have made to templates.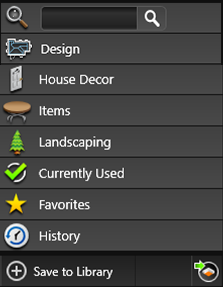 Library Buttons:
Save: The Save button will allow you to save custom templates to the library.
Edit: The Edit button is used to edit custom templates you have saved to the Materials Library.
Delete: The Delete button will permanently delete a custom template from the library.
Save: By saving a template you will create a new item in the Library.
---
It is recommended to save all custom templates you create to the library. This will allow you to quickly and easily insert your templates in all your future projects.
Save: When you press the Save button, the Create Template box will come up. This box will display a preview image of the template.
You select the Category and Type you would like the template saved to from the drop down lists and give your new template a Name. You may also enter a Description for the template.
To create a new category or type to save the template to, simply type in the new category or type name. Press the Ok button when you are done.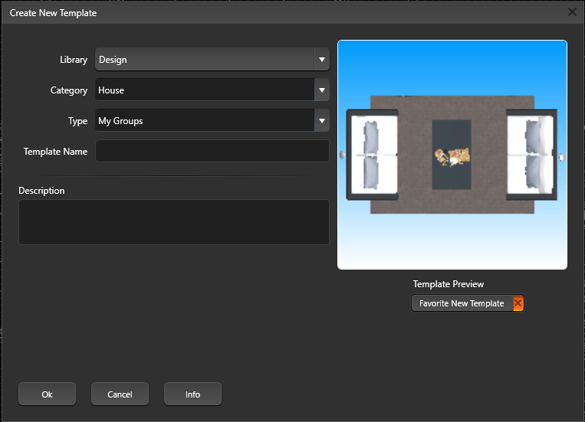 Edit: If a template you have saved to the library is selected, Edit will bring up the Edit Template box and allow you to edit the Tab, Category, Type, Name and Description of the custom template. The Edit button allows you to move saved templates between Tabs, Categories, and Types. You can also create new Categories and Types by typing in new category and type names.
Delete: Please remember this will remove the saved template from the library for all projects and cannot be undone.
---
Object Types that cannot be saved to the Template Library:
Groups - if anything is filtered, the whole group is
Callouts
Hole splines (when individually selected, still get applied through their parent)
Spillovers (when individually selected, still get applied through their parent)
Pool, spa, and step splines are excluded in Vizterra
Legacy Walls/Fences
Legacy library windows/doors
Legacy drains
Legacy library objects
Legacy water feature library objects
Smart Data Block (Page Layout) - VIP only
Sketchup/FBX models - VIP only