Use the Coping Draw Mode in the Hardscapes Stage to create Decorative Borders and Banding along with Paver Kits and Accent Pavers for your patios and driveways.
Coping Draw Mode
With this mode, it's easy to use the drawing tools to create exactly the coping you need, right where you need it on your hardscape. Add different coping at a beach entry, include decorative banding on the driveway, feature unique paver kits, or even create a custom basketball court—it takes just a few simple clicks.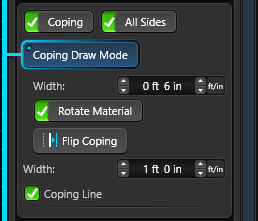 Rotate Material: Toggle to rotate the coping material 90 degrees.
Flip Coping: Switch which side of the drawn line the coping appears on.
Width: Adjust the overall width of the custom coping. The limit ranges from 1" to 24".
Add Decorative Borders and Banding

Coping Draw Mode offers a fast way to create and add decorative borders and banding to paver driveways.
To create a band, select the driveway and click Coping Draw Mode. Using the Outline Tool, draw the band of coping.
For example, you might choose to offset the band by 2 ft. and then set the width of the coping to 9 in. Once you enter the measurements you need in 2D, you'll be able to instantly see the band in 3D.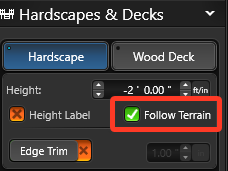 Tip: For driveways or any other hardscape that follows the terrain, select "Follow Terrain" for your Hardscape shape.
Create Paver Kits and Accent Pavers

Coping Draw Mode is also an excellent way to customize an area with paver kits and accent pavers, making it easy to add unique and eye-catching accents. Add Inlay pavers with Custom Coping. Or outline an area to link different elements of the hardscape, such as the outdoor kitchen and the fireplace.
It's easy to instantly adjust the width, shape, color combinations, and textures so that your new custom accents perfectly suit your specific landscape design.