Easy Changes
Change requests, simplified.
Update your design as you present it with unprecedented ease. With the 3D Pool and Landscaping Design Software Features, 3D objects update seamlessly so you can respond quickly to your clients' requests. Simply drag and drop 3D objects to feature them in another location or to achieve the perfect layout. Pool Studio and VizTerra automatically detect changes and recalculate accordingly. Impressive, fast, easy.
---
8 Easy Tools
It's never been easier to learn everything you need.
The best 3D pool and landscaping design software features a streamlined workflow. With it, you can design anything and everything with just eight powerful tools. A pool, a deck, topographic terrain, plumbing lines, construction markings and more. All accomplished with three drawing tools and five editing tools. And all eight are smart tools — like the Arc tool that maintains perfect S-curves no matter how you move or alter an object — so you can design and edit with unrivaled ease.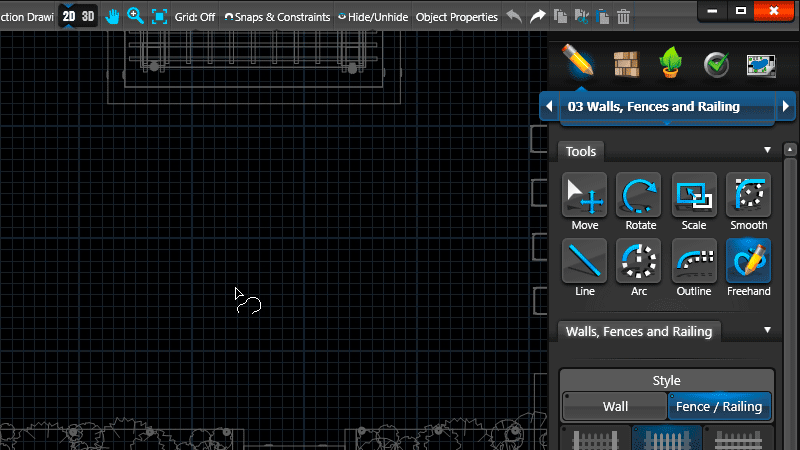 ---
Design in Context with GIS
The highest-resolution aerial imagery for the highest-quality designs.
Dramatically transform your workflow with the pool landscape design software and the most accurate aerial images available. Design with high-resolution GIS surveyed terrain data, and detailed information about your client's property. Image detail down to 3" per pixel means you can calculate square footage, measure the perimeter, and assess the outdoor living space — instantly.
Simply type in your client's address to access the GIS data, plus five ultra-high-resolution images. The surrounding terrain is modeled for you so it's easy to spot any potential limitations to the project before visiting the client — or even complete a design remotely without ever stepping foot onto the site.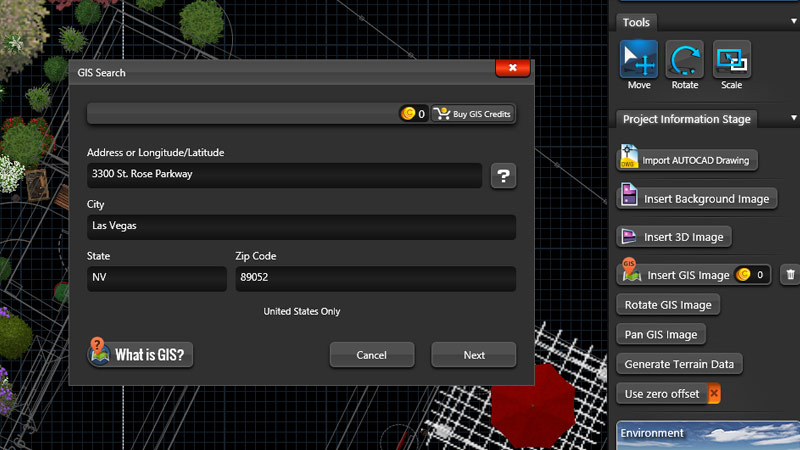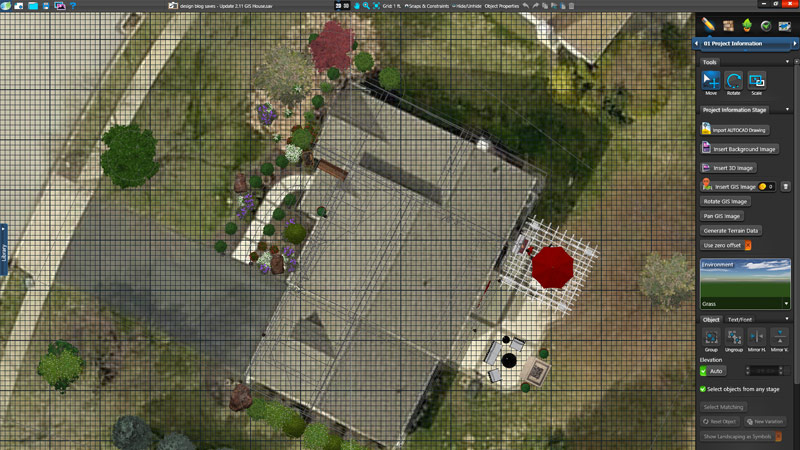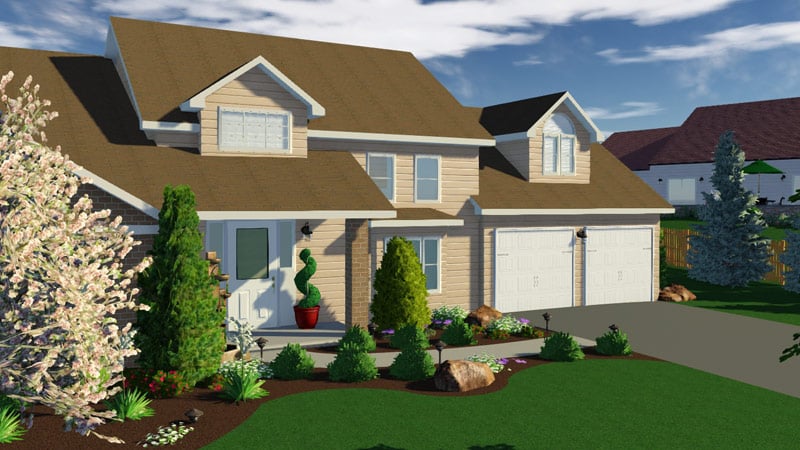 ---
Import Site Maps and AutoCAD Files
Trace or Import what you need
With Pool Studio and VizTerra's easy import tools, it's faster and easier than ever to achieve the perfect scale for a seamless design. The 3D pool and landscaping design software features let you import images from county websites or scan in plot and site plans so you have precise control over every detail of your design. And you can use the smart design stages to turn AutoCAD drawings into a stunning 3D design, instantly with this pool landscape design software.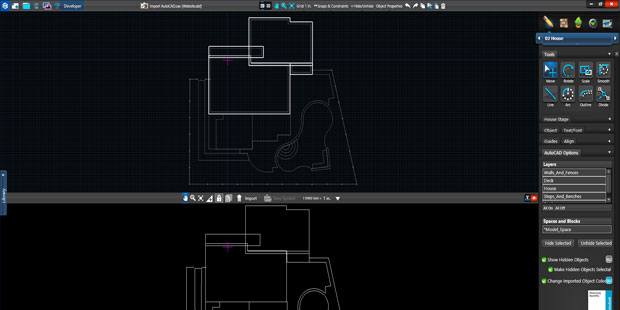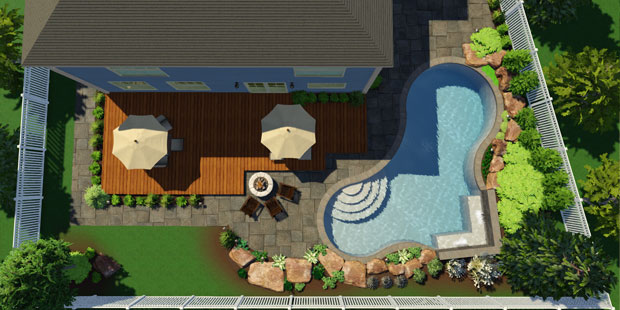 ---
See 2D Photos in 3D
Snap a picture, add your creation
Combine the power of outdoor living design software with your sharp photography skills. Using Pool Studio and VizTerra's flexible smart stages, you can easily insert traditional 2D photos into your 3D design, and create the perfect look set against the background of your client's actual space. The powerful tools of the pool landscape design software let you draw 3D objects in front of 2D images, automatically giving you all of the calculations you need to both price and construct your design.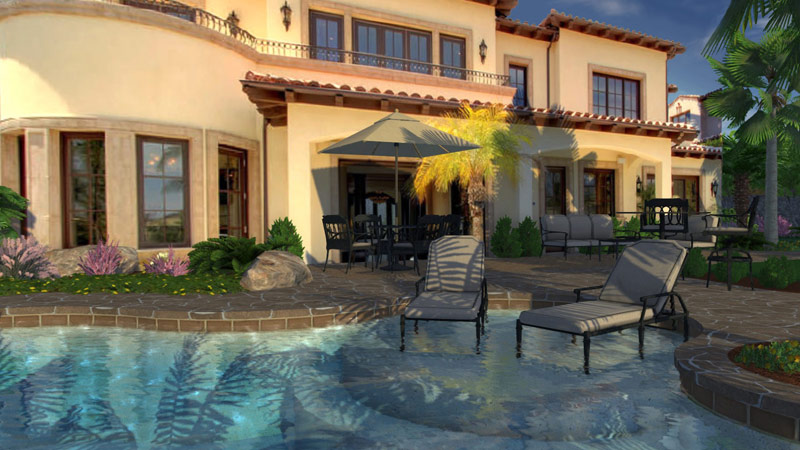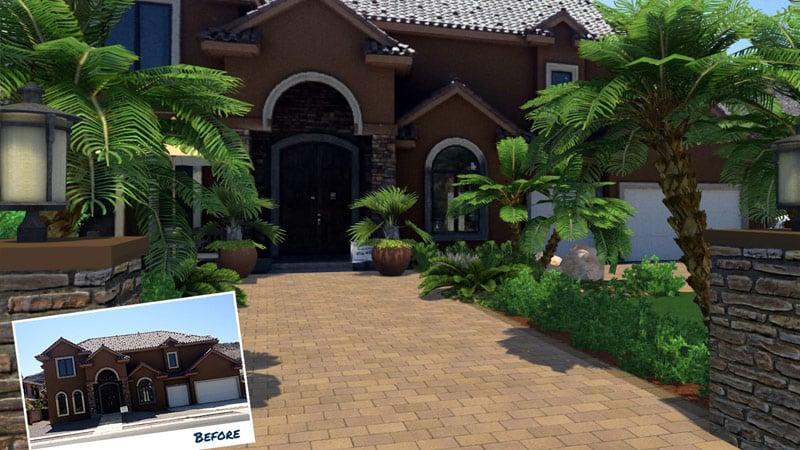 ---
Topographic Terrain
Bring the whole world into 3D
The unique and intelligent topographic terrain system empowers you to draw the grade of a client's property in just a few easy clicks. You can import topographic lines from AutoCAD, scan in site maps, and automatically generate topographic terrain lines using the incredible and precise GIS database included in Pool Studio and VizTerra.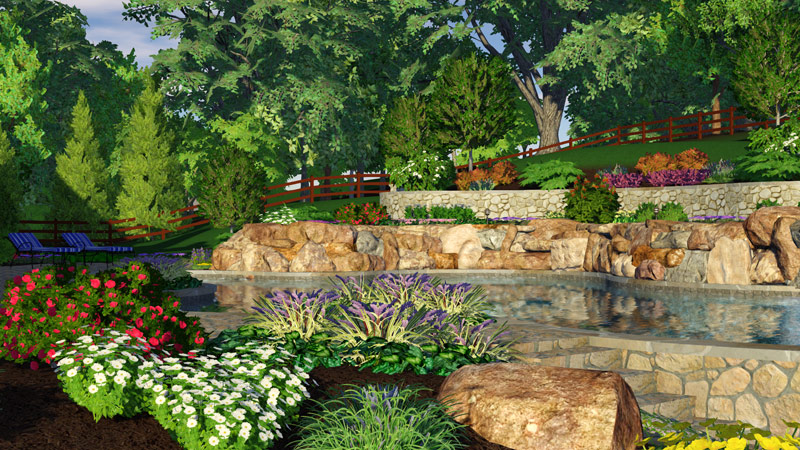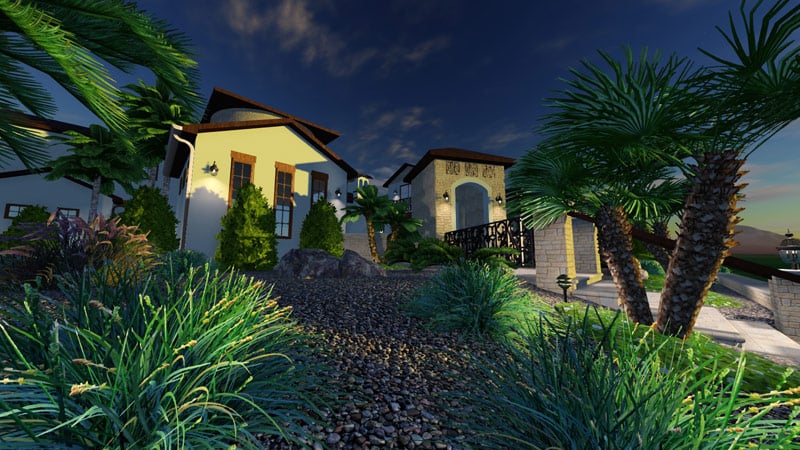 ---
Swimming Pools


Pool Studio and Vip3D Only
Take a swim in your future pool
With as few as four mouse clicks, you can create a dynamic swimming pool with unparalleled realism. Those four simple clicks give you a swimming pool with customizable depth, realistic water color based on the time of day, and an exquisite interior finish that matches your client's style.
Add polish to your design by layering details, including color-changing lights, sheer descents, deck jets, vanishing edges and more. You can easily save your design to the large built-in Swimming Pool Template Library, so you can immediately access your work again. Swimming Pool Design Software has never been easier, or faster.
---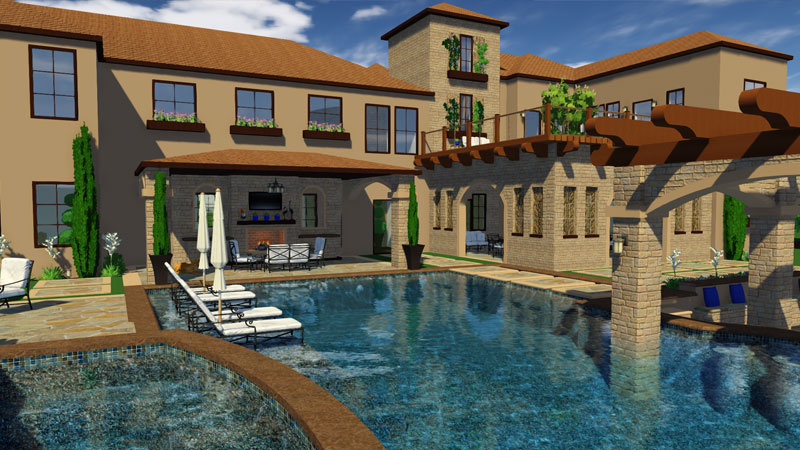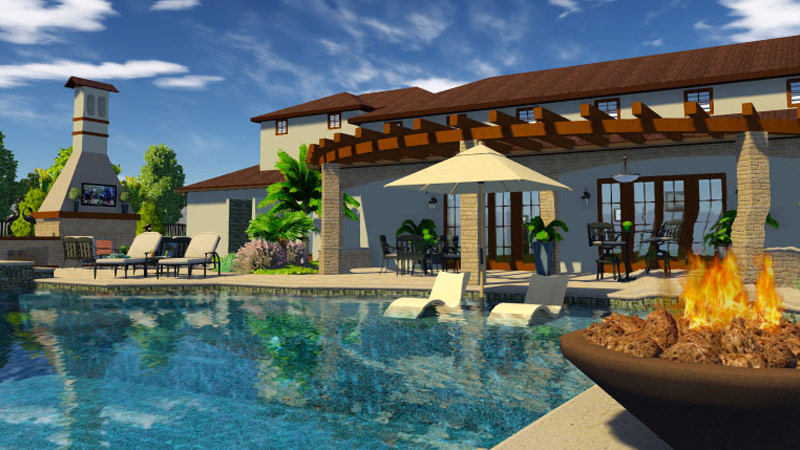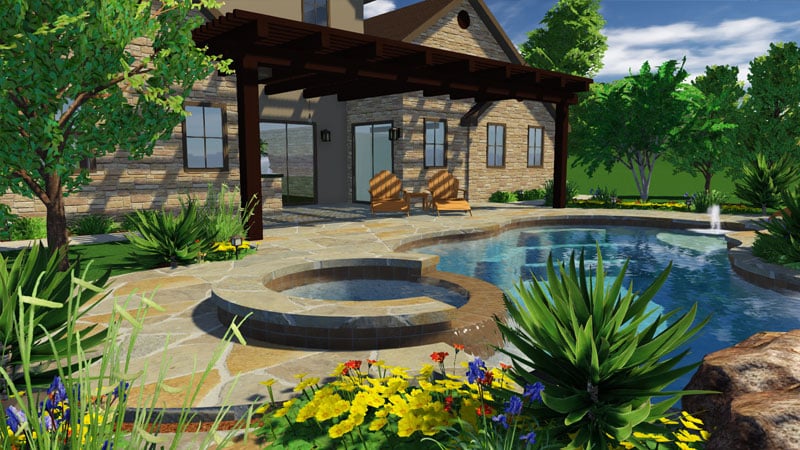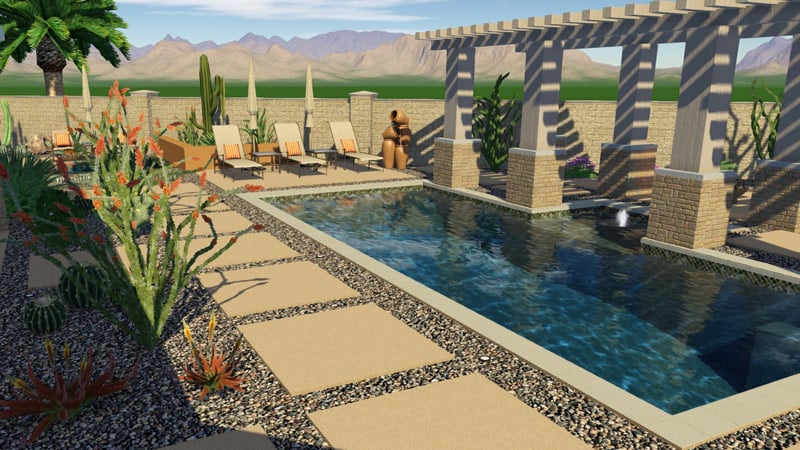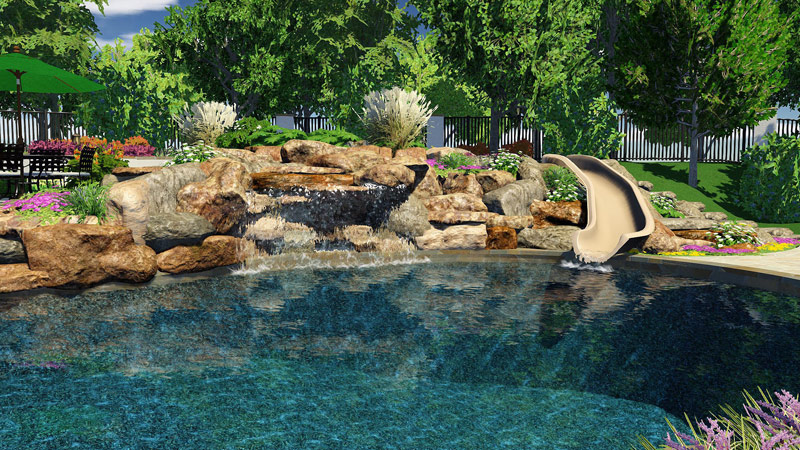 ---
Instant Dimensions
Complex calculations, simplified.
Calculate any measurement you need in record time. With simple keystrokes, bypass the mouse and type in the precise measurements and angles you need for any shape. Select shapes in 2D to get perimeters, linear feet, or meters. Estimate gallons. Triangulate locations or find arc center points with the measure tool. And let the pool design software's intelligent stage system account for overlapping objects and do the area calculations for you — like when a pool, spa, and deck meet and overlap.
Raised Deck
Area:
867sq. ft.
Perimeter:
241ft. 1in.